Giving
Planned Giving
Planned Giving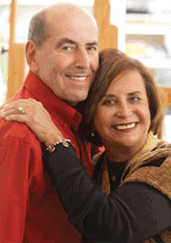 Why Make a Planned Gift and Join Cedars-Sinai's Legacy Society?
"In part, we did this as a thank you to the hospital. We are trying to keep [our son's] name in the community where people would be getting help for pulmonary disease."
—Herb and Shelley Lazarus,
on their planned gift to Cedars-Sinai
Why Cedars-Sinai?
Be a part of the next generation in medical discovery. With a variety of deferred gift options, you can provide sustained support for advancing research and patient care at Cedars-Sinai — while tailoring a program to fit your specific tax and estate planning needs.
Please explore some of these options below.
Bequests
Maintain full control of your resources during your lifetime and reduce your taxable estate by remembering Cedars-Sinai in your will or living trust.
Learn More
Charitable Gift Annuities
Provide a lifetime income to you and/or a loved one and earn a current income tax deduction with a gift of cash or property to Cedars-Sinai.
Learn More
Gift of Life Insurance
Earn an immediate income tax deduction and a possible premium deduction by designating Cedars-Sinai as the beneficiary of a life insurance policy.
Learn More
Gifts of Real Estate
Transfer the burden of managing a property and the expense of taxes by giving a gift of real estate to Cedars-Sinai.
Learn More
Gifts of Retirement Plans
By naming Cedars-Sinai as the beneficiary of your retirement account, such as a 401(k) or IRA, you can avoid passing on heavy income and estate taxes to your heirs.
Learn More